From June 25th to June 29 Devourer of Books is hosting a week of topics, giveaways and post dedicated to Audiobooks. I had no idea there was a week just for Audiobooks but now that I am a 80 mile round trip commuter, I am so exited to post everyday about my new hobby. Listening to Audiobooks!
Who are your favorite narrators and why? What do you look for in a narrator? Have a preference between male or female narrators?
Since I have started my weekly commute and using audiobooks, I have falling in love with a few narrators. I love the chance to introduce them to you.
Jeena Lamia
Jenna Lamia's life is a happy juggle of narrating audiobooks, acting, and writing for the television show "90210." She's sure that all three came from growing up in a "storytelling home." Jenna, who recently won an Audie for Solo Narration--Female, began her path to success when her parents read aloud to her nightly. "My father actually made up stories and shared installments of ongoing serials he invented." (From Audio File - Read more)
~I first hear her voice in the audiobook of The Secret Lives of Bees on a road trip to Clovis, New Mexico then she popped up on The Help. Great audiobook! Recently, I heard Jeena in my car when she read the part of Grace in the audiobook series The Wolves of Mercy Falls.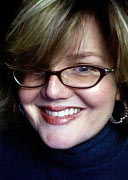 (born
Martha E. Bray
; March 11, 1964) is an American author of young adult novels, including the books
A Great and Terrible Beauty
,
Rebel Angels
,
The Sweet Far Thing
and
Going Bovine
.
She lived in Texas until she was 26 years old. After that she moved to
New York City
, New York, where she now lives with her husband and nine-year-old son. Her father was a
preacher
and her mother, a
teacher
.
~I just finished Beauty Queens not to long ago and I have to tell you the Libba Bray has set the bar for audiobooks for me. She made it seem like I was watching TV with the screen blacked out. New all time favorite!
I love audiobooks that have a female reading the female parts and a male reading the male parts. The perfect audiobook for me would be a cast where there is a new voice for each character. A few background noises that place the stories location help as well.
Who are some of your favorite audiobook narrators?