I was just awarded my first blog award ya'll! Joy from
Joy's Book Blog
nominated me for this cool award. Thank you so much Joy for my first award. I love it! Thank you!
You know I had to so a little snooping around found out a few things about this award.
The blogger from
The Loving Path
says..."
The origins of the Liebster Blog Award are unclear…but as Melissa shared, "the word translates from German as "darling" or "beloved". It's given to bloggers who have less than 200 followers in order to generate some traffic for them
." So this is just not a book blogger thing but all blogs are included in this award.
According to Joy who nominated me, there are 4 rules to follow when receiving the Liebster Blog Love Award:
1. Thank the one who nominated you by linking back.
2. Nominate five blogs with fewer than 200 followers.
3. Let your nominees know by leaving a comment on their sites.
4. Add the award image to your site.
So with no further yacking...lol...here are the 5 nominees.
First, there is no particular order to this list. Next, I wanted to nominate so many blogs but I had to give love to the under 200 followers blogs. Don't forget to click on their buttons and check out their work.
Blog Number 1

I love Eugenia's blog because she talks not just about books but about life in the Caribbean. I love her pictures as well as her topics.
Blog Number 2
This is the blog and the bloggress (is that a word) that got me going. Susanne's daily dedication to making a beautiful blog is inspiring. Just watching her set my gears in motion. Thanks chica!
Blog Number 3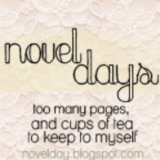 I love this blog because the blogger Britta merges her love o
I met this young blogger at the Passion and Prose Conference in February. And she is a Meg Cabot fan. Like soon to be President of the Meg Cabot fan club. I love it! I love her post about music too!
Blogger Number 5
I love Jayla's Blog Lady Blue Jay. She is a blogger that reviews books the way I love. Like we are in a coffee shop chit chatting away about books. Not to formal which I love.

Congrats Ladies!
Now I have to do the next thing on the list. Leave a comment on their blog about this post and their nomination.